Sewage Backup and Cleanup in Nashville
There are very few property disasters that feel as invasive and contaminating as sewage backup. Any Nashville property owner that has experienced sewage water backup can agree the faster your response, the faster your home or business goes back to feeling safe and clean again. Fortunately, you have 911 Restoration of Nashville on your side providing water damage restoration and mold removal, if needed.
Because we know how vital a quick response is, we provide sewage backup cleanup 24/7/365 and don't waste a single second. Our sewage restoration technicians take immediate action and promise an arrival time of 45 minutes or less, so you can have peace of mind the second that you reach out to us.
Any water cleanup company that doesn't go beyond water removal during your sewage cleanup is a company you need to stop working with. Our sewage restoration crew dries, sanitizes, and even repairs your property after experiencing sewage water backup. Mold remediation is conducted as needed, and we leave you with a property that feels clean again.
To help as many neighbors in our community as we can, 911 Restoration services both residential and commercial properties with comprehensive sewage cleanup in Clarksville, Nashville, and Hendersonville. Our crew is IICRC certified and trained to provide the highest level of service. We're even licensed, insured, bonded, and locally owned and operated.
Not only does our staff provide top quality service, but they lead with compassion and understanding. We know how invading sewage backup can feel on the clean property you've worked so hard to maintain. That's why our water removal team treats your property as if it were their own. When we arrive on the scene, we offer a free visual inspection (for property owners only) in addition to a free insurance consultation to make the path to recovery clear.
Don't lose hope. We can help you make your home or business feel clean and beautiful again. Call 911 Restoration of Nashville for a Fresh Start today.
Call 911 Restoration for Sewage Cleanup in Nashville
You may feel responsible for the sewage backup on your property, but it's not your fault. In Clarksville, Nashville, and Hendersonville, heavy rains flood sewers and force sewage water onto your property. While the responsibility of sewage cleanup falls to you, you don't have to do it alone. Rely on 911 Restoration, the most trusted certified sewage restoration professional in Nashville.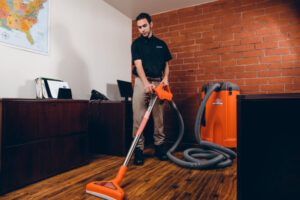 Our goal is to help you recover quickly and at a limited cost. The moment sewage enters your property, black water begins seeping into the structure of your home or business. The longer moisture lingers, the greater your risk of rotting and other damages like mold growth.
Because mold can pose a great threat to both your property and your health, our sewage cleanup crew is available any hour of the day or night, every single day of the year. Yes, even if it's on a holiday! They rush to your property in 45 minutes or less and begin to pack out and store any at-risk belongings to prevent further damage. We want to be your most trusted water cleanup company, so we complete the sewage cleanup process as quickly as possible and use professional blowers to dry the area.
We're the most compassionate sewage restoration company in the Nashville area. We see you as an important neighbor, not another invoice. We care about the health of your property, and your personal wellness. That's why we go the extra mile and sanitize the affected area in your home or business thoroughly. Toilet water damage introduces many dangerous organisms to your property, including parasites, viruses, and disease-causing bacteria.
For sewage restoration in Hendersonville, call 911 Restoration. We'll take it from there.
A Fresh Start is Possible After Sewage Water Damage
You may feel like your property is permanently contaminated and your home or business will never be the same, but we're here to tell you that's not true. In fact, our sewage backup crew leaves you with a property that feels cleaner than ever.
We don't just focus on water removal. Our sewage cleanup technicians take extra steps to ensure all the consequences of toilet water damage are gone completely. They dry the structure to its core, protecting your property from rotting, weakness, and mold. Our water damage restoration team even handles repairs for you. They do everything from floorboard replacement to drywall repair.
We're here for you, no matter the disaster. Call 911 Restoration today for a Fresh Start.
Serving the communities of Clarksville, Gallatin, Goodlettsville, Greenbrier, Hendersonville, Hermitage, Joelton, Lebanon, Madison, Mount Juliet, Nashville, Old Hickory, Springfield and surrounding areas.