Property Restoration in Springfield
No matter what kind of property you own in the Nashville area, the last thing you want is water or smoke from a fire to damage it.  
When you own a home or business in Springfield and the worst happens to it, you don't want repairs to be expensive or take up too much of your valuable time. When your property is uninhabitable because of water, mold, or smoke damage, it doesn't just hurt your building. It hurts you, as well as your family or business. 
That's why our IICRC-trained professionals at 911 Restoration have over 30 years of experience with all kinds of property repairs. We're open 24/7/365 to take care of water damage restoration, mold remediation, fire damage removal, and more. We even offer free visual inspection (for property owners only). As soon as you call us, we'll have a certified expert at your door within 45 minutes to tackle flood cleanup, mold decontamination, and more.
Mold Removal and Water Damage Restoration That Lasts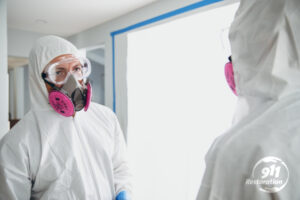 Water damages wood, drywall, and other materials in and around your home. If you have water in your sink crawlspace from a leaky pipe or house flooding, you might notice a bad odor as well. That's because moisture breeds mold. Without proper drying and ventilation, mold spreads fast, creating unsafe conditions inside your home or business.
When you experience water inside your building, you might call a plumber to come fix it. However, a plumber can't do water extraction as well as carpet removal. All they can do is fix the leak. After basement flood cleanup, a flooring company can't do mold inspection as well as removal. That means you have to hire more workers, which costs you more money and stress.
When you need full-service restoration after an emergency, look no further than the friendly staff at 911 Restoration. In addition to water cleanup, we also do mold remediation, building repairs, cleaning, deodorizing, and disinfecting. After water damage, our professional fans will have your place dry in no time. We even offer moving and storage of your items and furniture to prevent further damage. If you anticipate a natural disaster, we will board up your property to keep it safe, and we'll inspect it for damage afterwards. No matter what the problem, we'll handle it. Give us a call today.
Customer Service When it Matters Most
If your Springfield property has experienced a fire and you're struggling to deal with the aftermath, you're not alone. At 911 Restoration, we also handle smoke damage, puffback cleanup, and all kinds of fire remediation. Our friendly agents are available any time to answer your call, and we work with all insurance companies. When you need help navigating an insurance claim after a fire, we're here for you. We want to get your property in its best shape so you can get back to your life. 
When the worst happens, don't wait to get your Fresh Start. Give 911 Restoration a call today.
Servicing the cities of Clarksville, Nashville, Hendersonville, Madison, Gallatin, Hermitage, Mount Juliet, Lebanon, Old Hickory, Springfield, Goodlettsville, White House, Woodlawn, Joelton, Greenbrier, and surrounding areas.