Water Damage Restoration in Nashville
Weather Alert: If you are experiencing weather-related damage from the storm, call us today for emergency assistance!
911 Restoration of Nashville
You can rely on us to go above and beyond flood cleanup to provide you with the Fresh Start you deserve. That's why our water damage team conducts structural testing and a thorough mold inspection. If any damage is found, they handle repairs and mold remediation themselves.
We know better than most water extraction companies that flooding requires an immediate response. For fast relief and a Fresh start, call 911 Restoration of Nashville today.
At 911 Restoration of Nashville, we offer a Fresh Start with our comprehensive selection of property damage restoration services, including but not limited to:
Whether you're a Nashville homeowner or business owner, 911 Restoration of Nashville is your Fresh Start! We'll communicate with you throughout the entire process, help answer questions related to insurance, and restore your property to its pre-damaged condition. One of our IICRC-certified teams is dispatched within 45 minutes of your call! Contact us today, and one of our friendly representatives will assist you in finding the nearest Nashville location.
Tornado Damage Restoration
After a severe tornado or twister, residential or commercial tornado damage can be extensive. Your tornado damage restoration specialist is 911 Restoration of Nashville. Blowing debris, fallen trees, and other objects can cause damage to the exterior of your home or workplace. Tornado-force wind speeds and violence are also dangerous to trees.
Call (931) 223-1575 for tornado damage and restoration by 911 Restoration of Nashville for dependable and cheap tornado damage recovery.
Mold Removal in Nashville
Most property owners think mold growth isn't that big of a deal and can be taken care of with a simple home remedy, but that couldn't be further from the truth. Did you know that at least 45 million buildings in the United States have unhealthy levels of mold? Your property can be dealing with a hidden mold infestation and potentially cause serious health issues.
As a certified mold remediation company, you can trust 911 Restoration to eliminate this threat. Our mold removal team conducts an extensive mold inspection to uncover every infestation after water damage. Their mold and removal tactics are more effective and safer than a home remedy. Plus, they secure your property against future growth by dehumidifying the structure.
Your restoration isn't complete until our crew examines your property for permanent staining or damage. If we uncover any problems, we repair them. This leaves you with a home or business that's cleaner than the day you moved in.
If you're concerned your property might be suffering from a mold infestation, call 911 Restoration for mold removal in Hendersonville.
If you're a property owner in Nashville, you know the likelihood of experiencing a water damage emergency. So, when water enters your property, you don't have time to waste. You need expert water damage restoration services immediately. That's where 911 Restoration comes in to save the day.
Turn to 911 Restoration for water damage restoration in Clarksville, Nashville, and Hendersonville. Our water removal team is available 24/7/365 and guarantees an arrival time of 45 minutes or less.
It doesn't matter if your roof was destroyed by an ice dam or you have a flooded basement after a frozen pipe burst. Our IICRC certified staff is fully trained to respond to any type of water damage emergency. They do it all, including emergency roof repair, storm repair, boarding up, and leak detection. Their first order of business upon arrival is to pack out and store your belongings to prevent additional damage during the flood cleanup process. Once water removal is complete, they bring in professional blowers to dry the area completely and dehumidify your property to avoid future mold infestations.
Sherry M.
"I would give them 6 stars if I could. I had to deal with a flood in my business, an absolute nightmare for every business owner. [911 Restoration] came right away, and they are so professional and efficient. Even after everything was done they followed up and made sure everything was back to normal. A+ customer service. Thank you!"
Sewage Backup and Cleanup
Few things make your property feel as contaminated as sewage backup and toilet water damage in Nashville. You probably can't imagine a reality in which your property feels safe and clean again. Fortunately, our sewage restoration team can recover your home or business.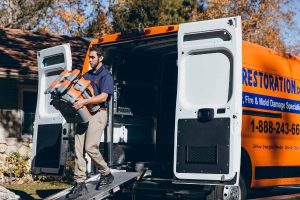 Our sewage cleanup team arrives in 45 minutes or less of your initial call, day or night. They take quick action to minimize the water damage you experience and limit the cost of sewage restoration. Our water removal experts handle sewage extraction quickly, drying the area to prevent rotting and warping. Because sewage backup can introduce disease-causing bacteria to your property, our staff extensively sanitizes your home or business. Your health and wellness are just as important to us as the health of your property. That's why our team is IICRC-certified!
We handle any necessary repairs, whether floorboards need replacing or your drywall is stained from toilet water damage. Our sewage cleanup crew doubles as mold remediation experts, so they handle mold removal if an infestation develops following your sewage backup.
Your home or business may feel contaminated now, but we can have it sparkling and fresh in no time. Call 911 Restoration for sewage backup in Clarksville today.
Fire and Smoke Damage Restoration
A property fire can be absolutely devastating, which is why our fire damage restoration services go far beyond taking care of just your property. We care for your emotional needs, too. If you need puffback cleanup or smoke removal in Clarksville, Nashville, or Hendersonville, call 911 Restoration.
We handle every step of the recovery process so you don't have to hire another contractor. The fire damage restoration process starts with a free fire damage assessment (for property owners only).
Our fire cleanup crew removes odor permanently and uses sodablasting to eliminate all traces of soot and ash. They can even handle flood cleanup if your property has been soaked by the firehose. We perform a thorough mold inspection to ensure a hidden mold infestation isn't putting your property and health at risk. Our fire damage restoration team doesn't consider your home or business recovered without full property restoration.
A property fire doesn't have to be the end of your home or business. Our fire damage restoration crew can help you make a Fresh Start. Call 911 Restoration for fire restoration and smoke removal in Nashville.
Disaster Restoration
When your property is in danger, 911 Restoration of Nashville is here for you with all the disaster restoration services you could ever need.
They handle fire cleanup, water damage restoration, sewage backup floods, and more. Aside from rigorous training, we give our technicians everything they need to give you the Fresh Start you deserve safely and effectively.
You can have peace of mind knowing that our disaster restoration team gets you back on your feet and makes your property look and feel brand new.
What makes 911 Restoration different from other commercial restoration companies is that we lead with compassion and understanding. We communicate honestly and do all we can to minimize expenses and make the process as painless as possible for you.
Don't go through a property disaster alone. We're here for you day and night. Call 911 Restoration of Nashville today.
Commercial Restoration
When your business needs commercial restoration services, leave it to 911 Restoration of Nashville.
Whether you experience a property fire on a holiday, sewage backup in the middle of the night or water damage restoration on the weekend, you can count on us. Our commercial restoration team is available 24/7/365 and guarantees an arrival time of 45 minutes or less.
Our commercial restoration crew is held to high standards. Of course, they must complete regular, rigorous training. As a matter of fact, they're equipped to handle any disaster, from fire damage to mold contamination. We value empathy and fully embrace the Fresh Start attitude.
Regardless of the disaster you're facing, we get you back on your feet as quickly as possible. Call 911 Restoration of Nashville for commercial restoration services today.
Serving the communities of Clarksville, Gallatin, Goodlettsville, Greenbrier, Hendersonville, Hermitage, Joelton, Lebanon, Madison, Mount Juliet, Nashville, Old Hickory, Springfield and surrounding areas.