Property Restoration in Hermitage
As a historical neighborhood in Nashville, Hermitage is a popular tourist destination. Once a rural area, Hermitage is now home to thriving businesses and suburban tract houses. Located near a river, it also provides a number of outdoor recreational activities. Unfortunately, the hot summer months and moist climate mean property owners in Hermitage are at risk for water damage.
Water harms your home or business in all kinds of ways. When your air conditioner overheats or a pipe bursts, home flooding means you need emergency water removal fast. That's why 911 Restoration has over 30 years of experience with water damage restoration, mold remediation, and more. We're open 24/7/365, so we can handle your water cleanup or night. As soon as you notice a problem, we'll have an IICRC-certified expert at your door within 45 minutes. Whether you need smoke damage cleanup after a fire, boarding services before flooding, or water extraction after a leak, we do it all.
At 911 Restoration, we work with your budget and schedule to get your property in its best shape. We believe in giving all our customers a Fresh Start, which means we'll have your property looking and smelling better than we found it. We even offer free visual inspections (for property owners only). When you need restoration after fire, water, or mold damages your property, give us a call to get your Fresh Start today.
Water and Mold Removal You Can Count On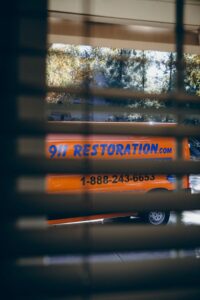 If rain water leaks inside your property, or there's a bad odor inside your sink crawlspace, mold may be to blame. When water spills on your carpet, if it's not completely dried, mold eats away the fibers and eventually the floors underneath. If your property has mold, it's tempting to deal with it yourself. However, at-home testing kits aren't reliable, and removing mold incorrectly can release dangerous spores, impacting the health of you and your loved ones. 
When your property experiences water damage and needs mold decontamination, trust the experts at 911 Restoration. Our staff is trained to find mold, and we even do testing with third party laboratories. Once we identify the problem, we remove mold, then clean and disinfect the entire area. Our industrial-strength fans make sure your property is clean and dry. Additionally, every member of our staff follows all CDC and EPA protocols to make sure you and your property are safe.
When you need mold remediation or water damage, trust our staff at 911 Restoration to take care of it, so you don't have to. Give us a call today.
Putting the Customer First After a Fire
A fire is one of the worst experiences a property and its owner can have. If a fire affects your home or business, you shouldn't have to deal with the aftermath alone. There's smoke damage, water damage, and insurance claims to deal with. At 911 Restoration of Nashville, we're here to help you with all of it. We even work with all insurance companies, and we'll handle the paperwork. We rebuild your property so you can rebuild your life. When you need restoration for your home or business after fire, flooding, or any kind of emergency, give us a call.
Servicing the cities of Clarksville, Nashville, Hendersonville, Madison, Gallatin, Hermitage, Mount Juliet, Lebanon, Old Hickory, Springfield, Goodlettsville, White House, Woodlawn, Joelton, Greenbrier, and surrounding areas.