Tornado Safety Checklist for Businesses – During and After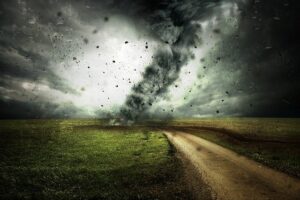 Tornadoes in Nashville are some of nature's most destructive forces, carrying strong gusts of winds that can uproot buildings and trees. The strong winds are capable of hauling off heavyweight and turn them into lethal projectiles, this applies to cars, trees, and broken glass. Although weather systems are improving, tornadoes are hard to predict.
Preparing for one is mostly about staying safe than keeping your office intact. As much as we want to protect our possessions – and we should do all we can to ensure they are protected – a strong enough tornado can destroy anything in its path.
As a small business owner, your priority should be to protect yourself and your employees in the event of a tornado. This guide will highlight simple safety steps you can take to protect your employees during and after a tornado.
Things You Will Need
It pays to plan for tornadoes in advance to better prepare and minimize any damage done.
Keep alert: Buy an NOAA weather radio to receive alerts related to severe weather.
Purchase batteries: Purchase several backup batteries in case of a power outage. The batteries will power emergency lighting so you and your employees can find navigate around in the dark.
Keep Three Days Worth of Food and Water: You'll never know when the tornado subsides or when help arrives. This is why it is important to have access to at least three days' worth of supplies for all your employees in case they are unable to leave office.
Keep an emergency kit nearby with the following items:

NOAA radio
Flashlight
Batteries for radio and flashlight
First-aid kit (to administer any wounds and injuries)
Staying Safe During a Tornado
The following tips can help you stay safe during a tornado.
Every commercial building has different safe places. Make sure to know where they are and how to get there in case of an emergency.
The most important step right now is to stay away from windows and doors. Your priority is to stay low and close to the ground.
Protect your head from flying debris. If possible, consider taking shelter under something heavy such as a table or a desk. If you don't have access to them, use your arms to protect your head and neck.
Pick a safe room in your office where employees can gather during a tornado. This could be the meeting room or a basement with no windows. Make sure to fetch your NOAA Weather Radio to stay tuned for the latest weather updates from officials.
Educate everyone about tornado siren warning systems if you have one installed in your area.
Find first aid kits and fire extinguishers.
Teach your employees how to use fire extinguishers and administer first aid kits.
Turn off all utilities in your office – water, gas, and electricity to prevent the tornado from causing damage.
What To Do After the Tornado Has Passed
Most tornadoes don't last longer than ten minutes. Your priority at this point is to assess the damage and aiding the injured.
Help the Injured
Check all employees to see if they are injured. Administer first aid for minor injuries.
If someone is seriously injured, do not move them unless they are facing imminent danger. It is better to wait for the ambulance to arrive.
If a person is not breathing, administer CPR if you are trained.
Ally direct pressure on cuts and wounds to stop bleedings.
Stay Away from Hazards
Keep a safe distance from downed power lines until the utility company has repaired them.
If your office has no power, use flashlights. If you have to use a candle, take the necessary steps to prevent any accidental fires from starting.
If you smell fumes or gas, evacuate the area immediately.
If you see damaged electrical wiring, turn off the electrical supply at the main circuit breaker.
Check for water damage – if you suspect that water pipes and sewage lines have been damaged, avoid using them and wait until they are assessed by a professional. You can obtain safe water by melting ice cubes from the freezer.
Finally, if your office was damaged by water or fire, or a combination of the two during this critical time, it is important to call water damage restoration specialists in Nashville at the earliest. Water and floods create the ideal circumstances for mold and bacteria to fester in just under 24 hours.
At 911 Restoration of Nashville, we offer comprehensive water damage restoration services, including mold removal, and full reconstruction services. Regardless of the size or scale of damage to your property, we have access to the necessary resources and skills to repair and restore your office.
Contact us in Nashville today if your office has been damaged by a tornado, and we will be more than happy to assist you.