Boosting the Fire Safety of Your Backyard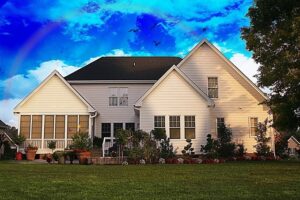 Summer and spring is the time when you like to hang out in your backyard with your family. Many people host buffets and lunches. Even during colder winter months, you may light up a bonfire in your backyard to toast some marshmallows and enjoy reveling in nature. While all of this sounds quite harmless, fire safety should be your number one consideration.
Fires are a common occurrence in America, and most of these are due to accidental oversights. Fires are not only a threat for you and your family; they can also incur major fire damage expenses for you. Fire damage will then cause water damage, which leads to mold growth.
This is why you need to boost the fire safety of your backyard to mitigate this dreaded possibility with these fire safety tips.
Tip #1 Trim Any Protruding Branches
Most often, your home is exposed to fire damage by no fault of your own. If your backyard has any low hanging branches or any shrubbery that is protruding into a neighbor's house or outside the house, you may be at risk of a fire.
This is because these branches can catch fire from an external source. The fire will then spread quickly and into your home since wood quickly catches fire in any case. To prevent this, you should be careful and trim any stray branches that extend outside or into a neighbor's home.
Tip #2 Prevent Low Hanging Power Lines
If you see any low hanging power lines in your backyard, you shouldn't take this matter lightly. At any given time, you should believe that these power lines are energized and so incur the risk of electrocution. But this can also pose a risk of fire in your home.
Low hanging power lines that spark due to wind or other weather conditions can cause fires. Moreover, these low hanging wires in your backyard may come in contact with trees and branches, and once again, this incurs the risk of a fire.
Tip #3 Keep Flammable Plants Away from Your Home
Homeowners love decorating their backyard with plants, but this can also be a potential fire hazard. If any flammable plants are kept close to your home, this can easily cause a fire that may then penetrate your home. To prevent this, you should avoid flammable plants, and if you do have them, make sure to keep them away from your home.
Some of the common flammable plants you should avoid keeping close to your home include Italian cypress, eucalyptus, and rosemary. Some fire-resistant plants include maple, coneflower and lilac.
Tip #4 Keep Fire Pit in Open Air
While you may think this is a no-brainer, most people make the mistake of keeping the fire pit under a tree. No matter how high the tree is, you should avoid doing this as it poses a fire risk. Due to wind or any other external factor, any leave or branch can catch fire.
This is why you should make sure you keep the fire pit in the open air in your backyard. Also, make sure that you don't keep oil or any flammable material next to the fire pit to ensure the fire safety of your backyard.
Tip #5 Keep a Hose or Fire Extinguisher Nearby
Whether you have a fire pit or no, your backyard is always exposed to a risk of fire. If there is a wildfire nearby or a neighbor's fire, your home will automatically be at risk. So as a safety measure, you should always have a fire extinguisher or hose nearby.
This way, in case of an emergency, you can act quickly till an emergency response team arrives. Fire can spread very quickly, so having some form of fire extinguisher nearby will save your backyard and home from a lot of damage.
Tip #6 Trim Grass
Grass can easily catch fire, so make sure you keep your grass neatly trimmed. This is not only to ensure the aesthetic appeal of your backyard but also to boost the fire safety of your home.
In fact, on a very hot day, the sun's heat can cause the grass to catch fire too. To avoid this, you should trim your grass to avoid floor fires and also remove any debris hidden in the grass.
Tip #7 Don't Dry Flammable Clothes in the Backyard
Many people dry clothes in the backyard where they won't be visible to passersby. However, this may be okay, but it can lower the fire safety of your home.
There are certain materials that can be quite flammable. On a particularly windy day, these clothes can catch fire from outside, and this can wreak significant havoc on your home.
Conclusion
These tips will boost the fire safety of your backyard to prevent fire and smoke damage to your home. In the event that a fire does occur, you should act fast to contain the damage. Call 911 Restoration of Nashville and they will ensure fire and smoke damage restoration, water damage restoration and disaster restoration. They have a fast response time of 45 minutes, so they will ensure the damage isn't too extensive.