Fast, Effective Property Restoration in Woodlawn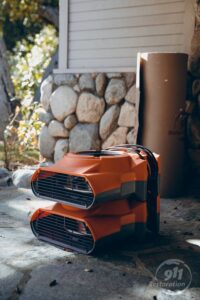 As a military town with a low cost of living, young families might become first time property owners in Woodlawn. When you own property, you always have to worry about the cost of maintenance, but repairs can be especially difficult to navigate for first-time home owners. 
When you have water, mold, or smoke damage after a fire, you might try to tackle the problem yourself in order to save time and money. Unfortunately, the problem will continue unless treated from every angle. For example, you might soak up water after a pipe bursts inside your crawl space, but notice a damp, unpleasant odor over the next few weeks. You could use a fan to dry your carpets after house flooding, only to discover a mold infestation underneath when you try to replace them with hardwood months later. 
When you're a first-time property owner, you know every penny counts. The last thing you want is to waste more money treating a problem inside your home or business that you thought was already solved. The longer the issue continues, the more time and money it costs.
That's why 911 Restoration of Nashville offers full-service restoration, from smoke and water damage restoration to mold decontamination, and so much more. We have over 30 years of experience as a national brand, and our Nashville branch is locally owned and operated. We give our customers the best of both worlds, by offering experience and expertise with property repairs, as well as local community members who put the customer first. When you call us, we'll have an IICRC-trained professional at your door within 45 minutes or less. 
Expert Water Damage Restoration and Mold Remediation 
Water also creates a breeding ground for mold. When you have a persistent leak or need basement flood cleanup, you don't just have water damage. You also need mold remediation. 
Mold is bad for your health and the health of your property. Mold eats wood and drywall and it spreads fast, thriving in dark, moist environments. It's hard to find and without proper testing, it could cause allergies, dizziness, or worse. 
Our experts at 911 Restoration are trained to handle mold using EPA and CDC guidelines. We tackle the problem quickly, efficiently, and most importantly, safely. After the mold is removed, we clean and deodorize your property. To get the job done right, give us a call today. 
Smoke Damage and Soot Cleanup After a Fire
At 911 Restoration of Nashville, we hope your home or business never has a fire, but when the unthinkable happens, we'll be here to clean up the damage. 
We have experts to handle any kind of fire damage. We even offer free insurance consultations, and we'll handle your claim for you. When your home or business has smoke damage, you need a complete restoration to get it clean, safe, and smelling better than ever. At 911 Restoration, we do it all. When you need help with your property after a fire, don't stress. Give us a call.
Servicing the cities of Clarksville, Nashville, Hendersonville, Madison, Gallatin, Hermitage, Mount Juliet, Lebanon, Old Hickory, Springfield, Goodlettsville, White House, Woodlawn, Joelton, Greenbrier, and surrounding areas.